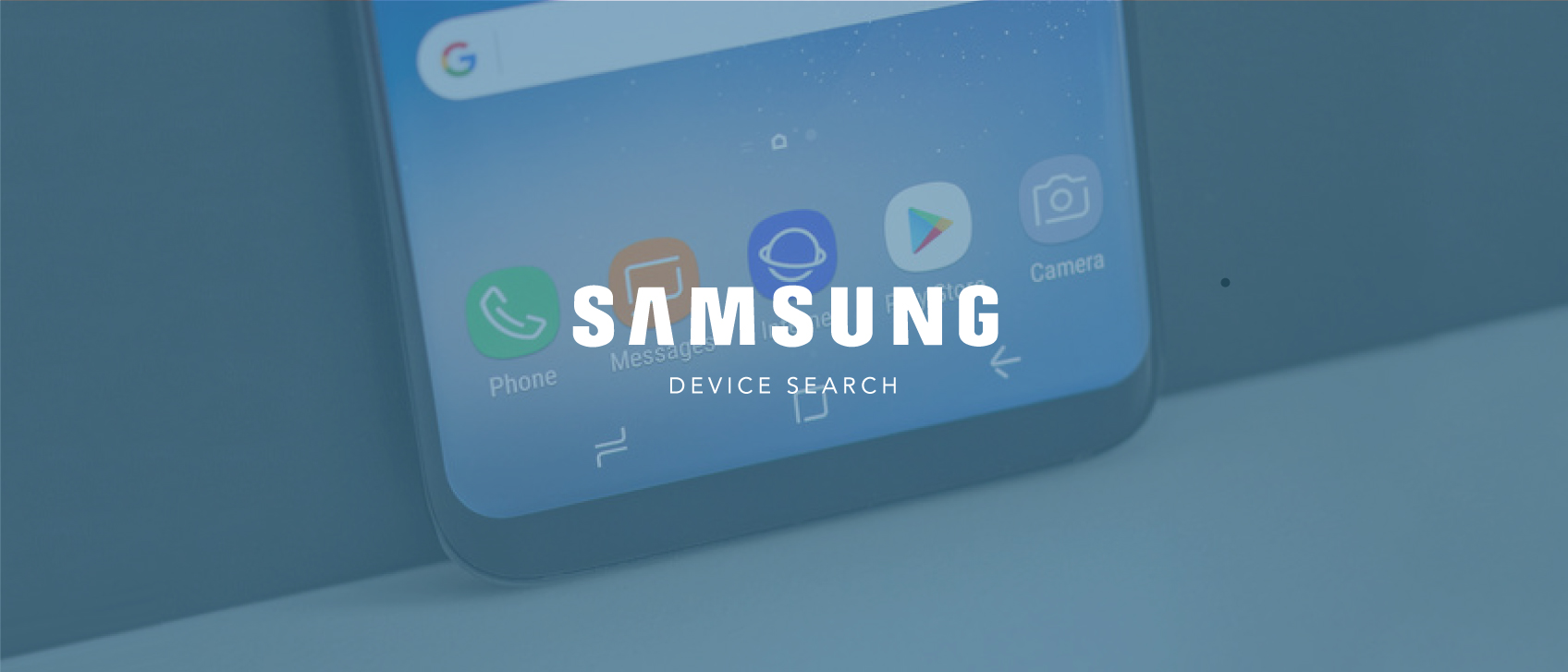 *Due to confidentiality, this write-up excludes in-depth findings and opportunity areas.
Summary
Context
As a junior UX researcher at Samsung during the summer of 2017, I worked with the senior UX researcher to uncover insights around several of Samsung's products. One of the larger projects I worked on was on mobile device search: Finder, which this write-up details. 
Challenge
The mobile home design team sought opportunity areas to improve and re-envision device-search on the Samsung Galaxy S series. Greater focus was given to evolutionary opportunities with some early insights into further revolutionary explorations.
Outcome
After synthesizing raw data from research findings, four journey frameworks were constructed to map key search scenarios and areas for improvement. These provided leaner, succinct documentation to inform the design of future flagship devices.
Approach
HCI frameworks were used to understand search behaviors from goals to actions as the area of investigation involved micro-interactions. Two main research methods were conducted: diary study and user testing, to help answer overarching research questions.
Breakdown 
I joined the UX team when phase 1 was near complete and was fully immersed in phases 2 and 3 (Figure 1). Phase 1 informed a few interview questions for phase 3 regarding people's preferences towards search paradigm shifting opportunities. In phase 2, a total of 14 participants were interviewed (6 on the one day diary study and 8 on user testing which consisted of task analysis and concept testing). Before my term completed, phase 4 had just started and design decisions based from phase 3 were being prototyped for testing.

Research Questions 
What are opportunity areas for mobile device search compared to online web search? What are the behaviors that differentiate the two? 

How often do people use device search? 

What are people using device search for? 

What are current search approaches that people use to find what they are looking for? 
The above research questions guided both the diary study and user testing. The purpose of the diary study was to get a feel for what people were mostly searching for, which were mainly online, like for a location or a person's name. Google's Micro-moments and AOL/Insights high level search needs were used to organize findings, such as searches that stemmed from curiosity or searches to act on something. This information later helped inform the journey maps scenarios.
The purpose of the user testing was to uncover how participants were specifically searching within their devices, and the methods in which they did so. We utilized 4 different smartphones to generalize the results: S8, iPhone 7, Pixel 1 and participants' personal phones. We found that there were four main approaches that participants used to search: Device search, manual search, in-app search and web search, and that these were dependent on the content they expected to find through these methods (Figure 2). The following figure shows a search framework that we used and the addition of the new phase 'Approach' which was added after testing. The stages can go back and forth depending on the context and are often not a linear process.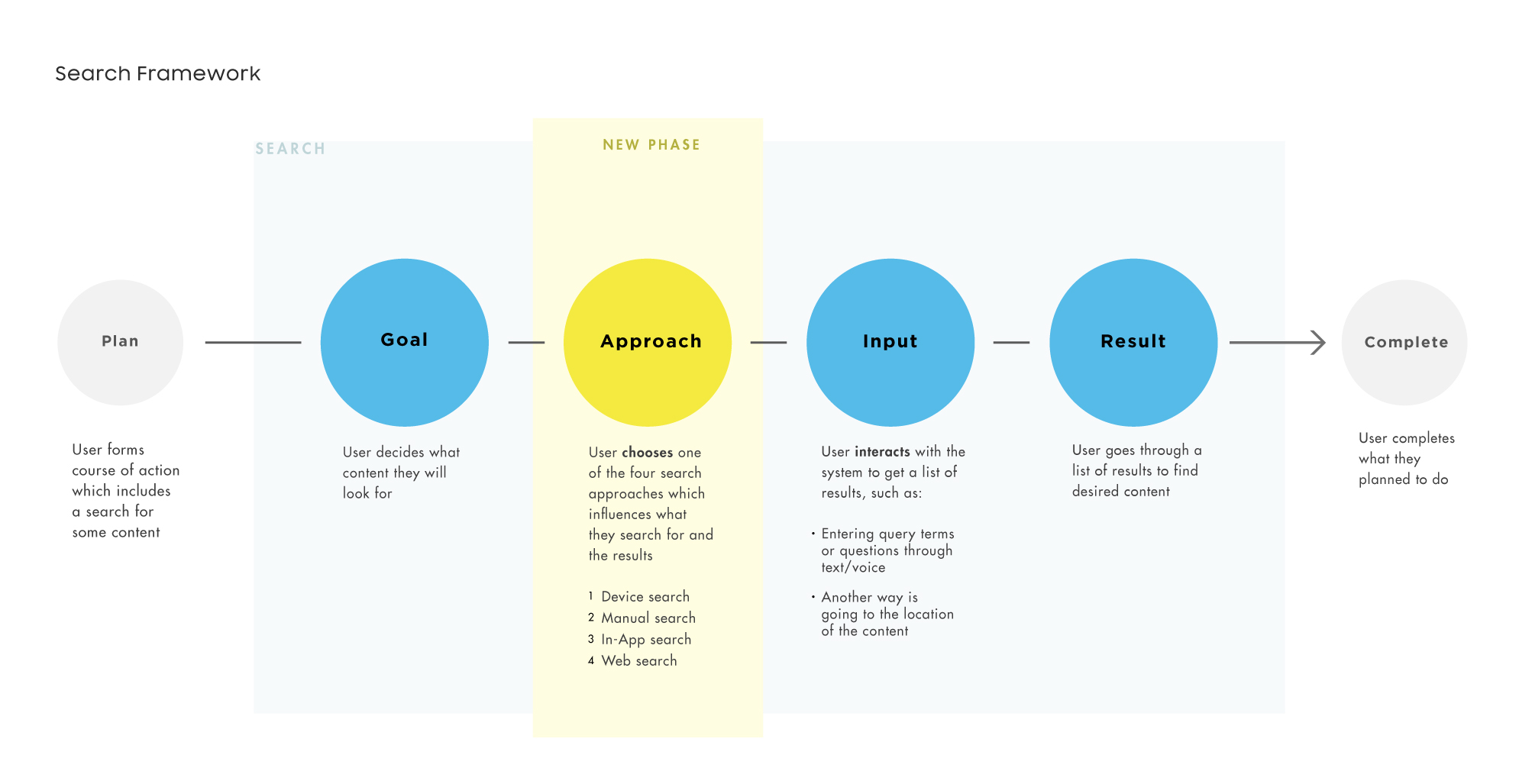 Key Findings Summarized 
All participants use web search more than device search 

Most participants don't search for apps or settings, but may use device search for specific situations, like finding a contact

Most participants first use trusted, familiar and efficient search tool

Most participants found that some results were not within their desired context and saw benefit in being able to order Finder results
After analyzing data into coherent patterns and categories according to what was most relevant to the design team, data were grouped into 4 common device search cases that were shown in the form journey maps: 
"I know where to find" (Figure 3 and 4) 

"I don't know where to find" 

"I don't know which one" 

"I like to kill time" 
Due to confidentiality, only the first journey map with its opportunity areas is shown. Journey Map 1 shows an ideal search scenario where a person knows the exact location of their content (Figure 3), and thus less opportunity areas exist here. This provides a baseline for different search scenarios.